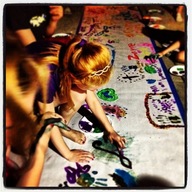 Going into High School camp, I had, in a way, forgotten who I was in terms of my relationship with God. Middle school got hard - not only academically, but my friendships began to change. By the time 8th grade had finished, I had only about 1-2 close friends. I felt alone - but not to the point where I'd make any drastic decisions. I still had my Spotlight friends and my supportive family, which I'm SO thankful for. I came to camp searching for friends, God, and my true identity. Once I got there, it became apparent who I really am. I'm loved by God. I'm not ashamed of loving Him or sharing His word with others. I met SO many true friends this year, and I will be forever grateful.

I learned so much this year about this one thing: passion. Not the weird "lovey-dovey" kind of passion, but intense passion for God. Whenever Jon prayed, I couldn't help but tear up - God spoke through him in miraculous ways this week, and it really touched me. Also, on Thursday night when Jimmy spoke to us, his *passion* for God was so apparent, and I learned so much from him, as well. But most of all, when everyone was singing so *passionately* at once, I felt God's presence in ways that I've never felt Him before. He loves each and every person, and He will never let us go - and THAT blows my mind.

The words of the main song this week, "Give Me Faith", really hit me. Here's just a few:

"Give me faith to trust what You say.
That You're good, and Your love is great.
I'm broken inside I give you my life."

That song helped me (and continues to help me) admit that I AM BROKEN, and so is everyone else in this broken world. But with God, nothing's impossible, and I *passionately* believe in those powerful words.