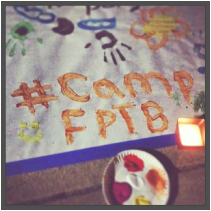 Fellowship. Prayer. Teaching. Breaking bread. These are four of the many things I learned at camp. Fellowship- building a united group through trust and encouragement. Prayer- a conversation with God to give thanks, worship, and express love so that we may grow closer to Him and gain His wisdom. Teaching- living and sharing your understanding of the truth to help benefit God's kingdom, which furthers your personal belief in God. Breaking bread- the coming together of all communities to share, discuss, and be vulnerable in a safe environment.

In my week at camp, I experienced what it's like to be in that safe environment. An environment where you can be open about your struggles and be accepted, loved, comforted, and prayed for no matter what! I went into camp having just been diagnosed with bipolar. I had known a year before they diagnosed me and I was already on medication. 7 pills a day. I went into camp feeling extremely depressed. I know for a fact that I wouldn't have made it through the week if it weren't for the people at camp. I doubted my strength for such a long time but at camp, I was told I was strong enough. They said that God gives his toughest battles to his strongest warriors. They all prayed for me. It wasn't until that week at camp that I began to have faith in myself. It was that week that I fully put my trust in God. I had been praying and praying for over a year and wondered why nothing seemed to change.

It was at camp that I realized I needed to trust that God has a plan for me. Me having bipolar was and is part of that plan. At camp I felt so close to God. A closeness I had never felt before. I felt his love so strongly that every time we worshiped, I burst into tears! That strong feeling of being loved came from God, but he provided those people at camp to show me that love. So many people came up to me after Faith Night and told me how loved I was, how beautiful I was, and they all prayed for me. I shed so many tears at camp. Tears of depression, tears of joy, and tears that I cried for no reason! I honestly never felt so close to God in all my life. Words just can't describe how strong the feeling was. That feeling of being safe, loved, and forgiven for all my sins. My shame had faded away.

As camp came to an end, I became more depressed. Yet this feeling of being safe and loved and forgiven did not go away. The depression still continues but it feels easier to overcome. I always knew God was on my side... But now, I feel it. It's as if he is holding my hand while I'm living with this depression. My depression, my anxiety, my OCD. It's all part of God's plan for me. I don't understand yet how this will benefit me or anyone else, but I know that something good will eventually come out of it. It's hard to go from getting a hug nearly every ten minutes to getting maybe two hugs in an entire day. It pains me so much to be away from camp; away from that safe environment. Camp could not have been any more perfect than it was! The memories will always be in my heart though! I know that the friends I made at camp will always be there for me. They are more than friends. They are my brothers and sisters in Christ!