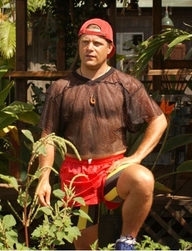 I used to always pretend my life was a movie when I was a kid. I remember one specific fantasy that I would play out almost everyday during my summers off from elementary school. I pretended that I was on a travel baseball team from Alabama (I used that think Alabama would be the coolest place to live) and the team I was on wasn't very good, but I was the leader and our coach really believed in us. Everyday, as the season went on in my mind, we would win another tournament against harder competition, and our national ranking would rise. We lost sometimes, but only to overcome it with an even greater victory later. In the end, we won a national tournament and became the best travel team in the country, and I was MVP.

I have such fond and specific memories of what everything looked like in my head, as we traveled around the country constantly singing Sweet Home Alabama. In reality of course, I was just running around my basement in my pajamas pretending to play baseball games and act our dramatic scenes with the coach. I am still convinced today that it would have made a great movie, but Warner Brothers has shown no interest. It's a great story, yeah?

I think we all, at one time or another, have wished that our life was like a movie. That we could overcome great odds to achieve an end the requires epic, triumphant music. I want my life to tell a great story, like the great movies. But great stories, in order to achieve great triumph, must first tread the waters of trials and suffering.

The scenes that make great movies great are often the scenes we want to skip, the ones that are painful to watch. When The Pursuit of Happiness, we want to skip the scene where Will Smith locks himself and his son in the train station bathroom because they have no where else to sleep. But if we do not watch that scene, if we do not invest ourselves in, and persevere through the suffering, then the triumphant climax at the end of movie when he walks in slow motion down the streets of New York City means very little to us. Not to mention the title just sounds silly. It would just be called Happiness, we could leave out the whole 'pursuit of' part.

I am convinced that we will never experience immense triumph in our story if we are committed to avoiding pain and suffering. Pain, suffering, trials, tribulations, stumbling blocks, they're what makes the eventual triumph so triumphant. The baseball team that is already the best at the beginning of the season, and then goes on to win the national tournament is a boring story, because people aren't inspired by individuals who achieve easy to reach goals without any struggle. People are inspired by stories of individuals who faced unbelievable odds, adversities, and knockdowns, in pursuit of a goal that is conceivably way beyond them. Movie characters dream big about their goals. We want our lives to feel like a movie, yet our dreams and mundane, and barely lifesize. Characters who live great stories, the ones on the big screen, live to achieve dreams that are larger then life.

If God, or anyone for that matter, were to watch the movie of my life, I would want it to be a comedy, tragedy, action, suspense, romance, thriller, biopic, fantasy, sci-fi, inspirational, tear jerking, belly laughing, butt quenching epic where I, as the leading character, follow the script that God, the director, has given me, and it leads me on a pursuit of places, relationships, platforms, and dreams I never could have dreams of.

I want to close this post by using the wise words of Samwise Gamgee from Lord of the Rings: The Two Towers.

"It's like in the great stories, Mr. Frodo. The ones that really mattered. Full of darkness and danger they were. And sometimes you didn't want to know the end. Because how could the end be happy? How could the world go back to the way it was when so much bad had happened? But in the end, it's only a passing thing, this shadow. Even darkness must pass. A new day will come. And when the sun shines it will shine out the clearer. Those were the stories that stayed with you. That meant something, even if you were too small to understand why. But I think, Mr. Frodo, I do understand. I know now. Folk in those stories had lots of chances of turning back, only they didn't. They kept going, because they were holding on to something."

What are you holding onto?