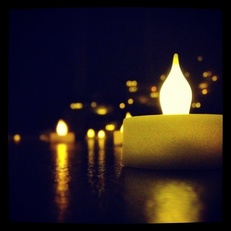 This year at camp was THE biggest blessing for me. To start off, I wasn't even supposed to be able to go because of the financial portion. But, God had different plans and knew I needed to be there so He put me on someone's heart who then felt led to anonymously support me. Right then I felt overwhelmed with love and joy, I couldn't believe someone would want me to go to a camp so bad that they'd put forth their hard earned money for me.

The friday before camp a lot happened to me, I went through a bad break up with someone who didn't treat me the way I should have been treated physically and emotionally. I lost all motivation to do anything, all motivation to go to camp. All I wanted to do was sit in my room and cry. But I kept thinking about how I needed to go because I couldn't miss out on what God had for me there. So I got there and kept my head high and faked a smile because that's something I'm pretty good at doing. And as the week progressed I still didn't feel anything. Here I was expecting some miraculous visit from God because it was through Him I even came and He wasn't doing anything, so I thought.

As Wednesday rolled around we had a surprise spiritual gathering at midnight. It was a practice called Lectio Divina, the verse they used was from Psalm 27 (one of my favorites) and I kept getting distracted. I couldn't focus on anything that was going on, so I separated myself from everyone around me and just broke down. I had no idea what was happening, my whole body was shaking and I started hyperventilating. Sarah was telling us to focus on what God was showing us and telling us, but I wasn't seeing, hearing or feeling anything at all. I started yelling at God so angry and confused for not being here with me and letting me feel as alone as I was. This whole week I was surrounded by amazing people and yet I still felt like I was all alone and that there was no one there who would notice if I just disappeared, and that's how I felt at that moment as well. I felt like God couldn't hear me, that when I prayed it was just me talking to myself and when I read the bible that it was just empty words on some page. Now, I grew up in an awesome Christian home with awesome Christian parents.. so I knew who God was and I knew what He could do, but I didn't see it in my own life. As the night ended I was at the point of just giving up, I didn't know why God would send me here if He wasn't going to do anything in my life. I didn't know why I was crying, I left that room feeling completely confused and abandoned. As Jon prayed over us before we walked back to the dorms, he told us to walk back in silence and to let God talk to us. As we all got up, a counselor stopped me and asked me to wait outside so we could walk together and talk, of course I said yes still confused. As I was waiting out there, I was still balling and shaking... holding myself the whole time trying to hold myself together. He came out and asked me what was going on, I told him almost all of it, I say almost because I have trouble opening up because I don't like to burden people with my troubles. He told me that sometimes we don't know what we're battling and we need to pray for clarity. He talked to me about how in Genesis Jacob was battling with an angel of God and didn't know it until after it was over and he came out of it with a limp. I opened up about how I was afraid to find out because I was afraid to face it, he prayed over me and I felt so much better. I've never felt so cared for by a guy in my life. Because I was in a bad relationship, I get scared of guys and I get scared of how they'll make me feel.. but that night I realized that not all guys are guys I need to be afraid of. And I think that that's what God needed me to see that night, He gave me confusion so that I could talk to this counselor and see that there are Godly men out there that are capable of loving a girl instead of putting her down. And that was only the beginning of the clarity we prayed for.

Thursday, faith night, I realized another portion of clarity I needed. It's faith night, so everyone is hugging each other and giving them words of affirmation. Well, someone came up to me and explained how beautiful I was.. in detail. Now, before this night I never knew that was possible. Being in that unGodly and unhealthy relationship put a lot more pressure on me than I thought.. I realized I hadn't finished a whole meal since I could remember, and friday morning, that's what I did. I had my first full meal, and finished all of it. As this person was explaining to me my beauty, I felt anxiety flow over me. The word "beautiful" has always haunted me. When someone says it to me, I get... almost mad. Because how could they lie to me like that, ya know? But the way this person was saying it was so... genuine. I couldn't believe my ears. It has gotten to the point in my life where I don't feel comfortable in my own skin, so I'd catch myself holding myself to try to hold myself together. I needed to hear how beautiful I was and I felt it for the first time in years. But, then I get back to the dorms and see how I look at myself in the mirror again and I went back to not loving myself...hating myself with such a passion and feeling that unworthiness.. and I thought about all that right after that genuine, loving person left me. I was crying out to God asking for protection FROM myself because I knew I needed to start taking care of my body. Right then I realized that I was so afraid of leaving camp and going back home to just myself getting me through life. I didn't feel strong enough and I knew if I didn't have this constant prayer and accountability, I'd go right back to eating half a meal with people and no meal while alone. I knew I needed to talk to a counselor, the one I felt most comfortable and safe with. But, like I said, I hate feeling like a burden on people... my problems don't matter. I finally got up the courage to open up this part of me not even my best friend knows and they announced it was time to go. I was left walking back alone and confused.

Like I said, Friday morning was the first meal I had eaten fully, and I felt disgusting afterwards. I went to devotions/worship STILL feeling this way. We got to write letters to ourselves this year that would get sent to us later on so that we wouldn't forget what we learned this year at camp... I didn't know what to say. I didn't have anything positive to say besides Wednesday at Lectio Divina. So I began to weep and pray and I decided to write down what I thought God would think of me, and it's what they've been telling us He thinks of us all week. He sees me as worthy, He sees me as someone worth fighting for, He sees me as His daughter and He sees me as... beautiful. I finished my letter and just sat there. Trying to hear him. Finally, I feel this overwhelming peace flow over my body. And I felt ready to talk to that counselor. Again, right as I stand up, it's time to leave. I went on with the day and prayed throughout it because it's the last day of camp and the hardest emotionally because it's my graduating year. I still had that random Peace over me though. And we finished up our showcase that night and I couldn't hold myself together. This camp has been the best thing that's ever happened to me and I knew it's something I needed each year. I never got to talk to anyone about this, but I'm now thinking it's because God was trying to tell me that I never needed anyone to talk to, I just needed Him. And I was so focused on yelling at Him in confusion that I never sat down and let Him talk to me.

It was true that God wanted me at this camp. That unhealthy relationship broke up because it wasn't what God had planned for me. It allowed me to open up my eyes to see that God has a guy out there for me that is just like Jon, Danny, Jimmy, Ben and Trevor. Amazing guys like that don't come around often and I feel so incredibly blessed to have gotten a chance to see that there are guys who care for girls and lift them up instead of drilling in their head about how unworthy they are. After camp that guy came back, apologizing and wanting to get back together, but because of how God had used these guy counselors in my life this year... I had the strength to say "no, I deserve better". That was the hardest, but best thing I have ever had to do. I still struggle with my self-worth/self-beauty, but because God opened my eyes to it even for a split second as that person was genuine with me.. I know it's possible to feel it again. I realized that this whole week while I was struggling, was getting me ready for something amazing that God was going to do for me the last 10 minutes of camp. Camp has given me FAITH to trust God and know that when I'm weak HE is strong... and that's the greatest gift I could have ever asked for. I feel so blessed that God put me on that person's heart to fund me in going to camp and that there is a counselor that I know I can go to WHENEVER with no judgment, who GENUINELY cares for me. #campFPTB.. forever.